This is an in depth blog post on the medication fluocinonide. In this post describes what the medication is used for, brand names, side effects and fluocinonide cost.
What is Fluocinonide
Fluocinonide is a corticosteroid that reduces swelling and inflammation in the skin. The medication is a topical anti-inflammatory agent that can be used on treat skin conditions for people and dogs. The anti-inflammatory cream must be prescribed by either a physician or in the case of dog, veterinary, to treat certain skin conditions.
Fluocinonide for dogs and people is used to reduce itching, redness, dryness and scaling caused by many skin conditions such as eczema or psoriasis.
The medication is only used to treat skin conditions. It should not come into contact with your eyes, nose or mouth.
Fluocinonide is only to be used as prescribed by your doctor. The medication should not to be used for more than 2 weeks in a row and no more than 60 grams per week. Typical use is 1 to 4 times daily depending on the brand prescribed. It is important to follow your doctors direction carefully. Do not wrap or cover the area unless otherwise directed by your physician.
Disclaimer
The information included in this page is not a substitute for medical advice. The list of side effects may not include all side effects as drugs can affect all people differently. Any dosage information may not include all dosage information. It is important to discuss with a medical professional that knows your medical history well which dosage is right for you and if there are any potential risks or possible side effects. Our goal is to provide relevant information but this page may not include all up-to-date information.
Brand Names
Fluocinonide can be available as a generic or under brand names. Some examples of brand names of this product are: Fluovix, Lidemol, Lidex, Lyderm, Tiamol, Topactin, Topsyn and Vanos. Fluocinonide cost can vary depending on if you are prescribed the generic or brand name.
Side Effects
Some side effects of this medication are burning, itching, pain, irritation on the treated area. These side effects tend to be mild and go away with continued use.
More serious side effects can occur and you should contact your doctor if you experience the following. Or if you feel that your symptoms are life-threatening or if you are having a medical emergency, call 911 immediately. More serious side effects and symptoms are as follows:
Adrenal insufficiency, which may include symptoms such as:

loss of appetite
weight loss
fainting
dizziness
nausea or vomiting
muscle weakness
depression
fatigue that worsens or doesn't go away

Cushing syndrome, which can include symptoms such as:

slow healing of wounds, cuts
feeling irritable, depressed, or anxious
new or worsening high blood pressure
tiredness
muscle weakness
weight gain
roundness in case (moon face)

Hair growth
Acne
Loss of skin color
Skin Infection
Thinning of skin
Stretch marks
Disclaimer: We cannot guarantee this information includes all side effects as drugs affect different people differently. This information is not a substitute for medical advice. Always discuss potential risks and side effects with a healthcare professional who knows your medical history.
Storage and disposal of this medication
Read the instructions provided with your medication to determine how to best store and dispose of this medication.
Some directions may be like the one that follows but may also differ. Store this medication at room temperature in a tightly closed container away from heat and moisture. This medication should be stored at room temperature 15°C to 30°C (59°F to 86°F). Do not refrigerate this product. Throw away any unused medicine after the expiration date on the container has passed. Do not pour this medication down the drain or flush it down the toilet after it has been used.
Fluocinonide Cost
The cost of fluocinonide can vary depending on your health plan coverage as well as if you are prescribed a generic version or brand name. You can use eNavvi to determine the cost of fluocinonide before going in to see your doctor. Or recommend your doctor to use the tool to quickly determine what cheapest version is best for you to be prescribed. As for fluocinonide for dogs, it is best to discuss pricing options with your dog's vet.
Below are examples of fluocinonide cost which can be found on eNavvi. The cost of fluocinonide may not match what is pictured below because the price is determined by your health insurance.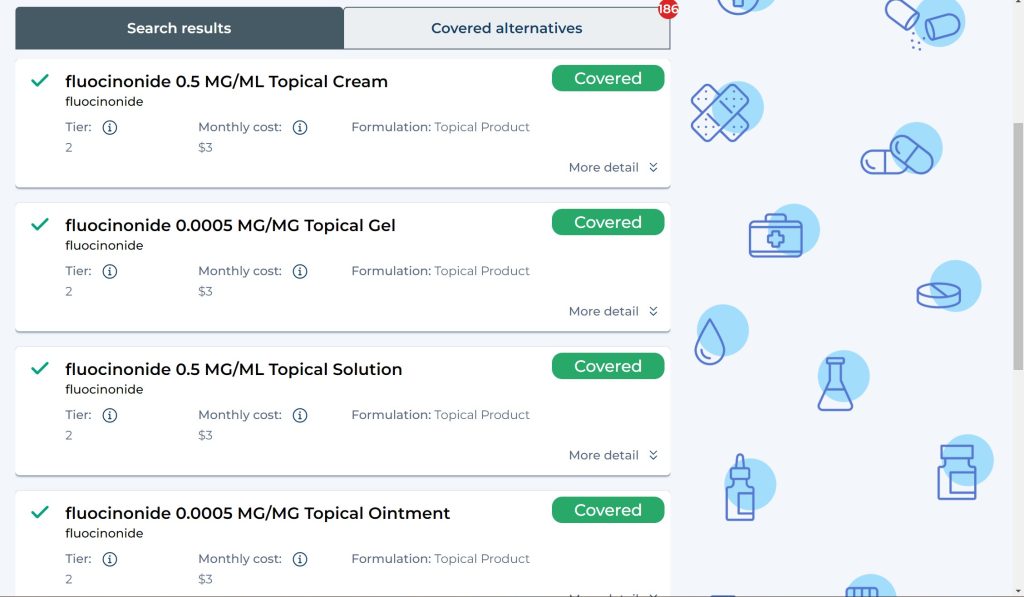 eNavvi also provides a list of covered alternatives.